Eat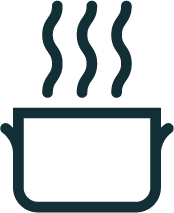 The kitchen at Tre Pol & Pen is the heart of our farm shop serving warming breakfasts, delicious lunches, cream teas, coffee and cake daily.
All of our dishes are freshly made or cooked to order, and where possible we aim to feature the same ingredients in the menu that you can then buy in-store.
At the heart of our kitchen is our stone baked oven, from which we cook up a range of Neo-Neapolitan Pizzas. We also have a range of other dishes freshly prepared daily in the kitchen.
All of our pizza's, cakes and coffees can be ordered for take-away.
Sample Menu
Our menu varies to include the best seasonal ingredients but below is a taste of what you might find coming out of our kitchen.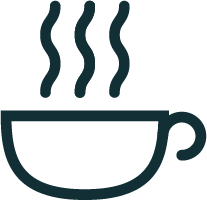 Breakfast
Served 8am - 11.00am
Mains
Tre, Pol & Pen Full English 
2 Tre, Pol & Pen sausages, 2 rashers of Cornish bacon, Cornish hogs pudding, 2 free range egg done how you like them, field mushroom, grilled tomato, Cornish new potatoes, beans & toasted Coombeshead Farm sourdough
£9.50
Vegetarian Breakfast
2 free range eggs done how you like, thyme roasted mushrooms, avocado, spinach, beans, Cornish new potatoes, grilled tomato & toasted Coombeshead Farm sourdough
£8.95
Avocado Smash
Smashed avocado on toasted sourdough with 2 free range fried or poached eggs
£6.95
Smoked Salmon & Scrambled Eggs
Smoked Salmon with scrambled 
free range eggs on toasted Coombeshead Farm sourdough
£7.95
(£1.50 extra with avocado)
Eggs Florentine
Two halves of a Cornish Split, topped with poached free range eggs, homemade holandaise, spinach and free range ham hock
£7.50
Little English 
Tre, Pol and Pen sausage, 1 rasher of Cornish bacon, 1 fried or poached free range egg, tomato or beans & toast
£7.95
Sandwiches
Bacon Sandwich
2 rashers of Cornish Bacon served between two slices of toasted sourdough
£4.95
Sausage Sandwich
Two Tre, Pol & Pen Sausages sliced and served in between two slices of toasted sourdough
£4.95
Lighter Bites
Tre, Pol & Pen Granola
Homemade Tre, Pol & Pen Granola with Trewithen natural yogurt & fresh berries
£5.95
Sourdough Toast & Preserves
A selection of jams and preserves served with toasted sourdough.             £4.25
Pastries      
A selection of freshly baked pastries.                               £2.75
---

Lunch
Lunch Served 11.30am - 2.30pm
Pizzas
At lunch we serve a range of Neo-Neapolitan pizzas freshly baked at 350C in our stone baked oven
Margherita
Mozzarella, tomato, basil
£7.50
Garden Kitchen
Mozzarella, Aubergine, Pepper & Courgette
£9
Seaweed Salami
Mozzarella, tomato, Seaweed & Cider Salami
£11
Charcuterie
Mozzarella, tomato & free range Coppa                         £11
Red Ruby
Mozzarella, tomato, spicy Landue minced beef, chorizo & chilli
£11
Mains
We also serve a range of dishes freshly prepared by the chefs in our kitchen, showcasing the best seasonal ingredients from the local area.
Tre, Pol & Pen Burger
6oz beef burger fresh from our butcher in a brioche bun with sweet balasmic onion chutney, tomato, lettuce and hand cut chips
£12.95
Tre, Pol & Pen Sausage & Mash
Butter roasted red onion and sage sausages, creamed garlic mash, braised cava nero & crisp onion rings
£11.50
Prawn & Smoked Salmon Open Sandwich
Smoked salmon, king prawns on Coombeshead Farm sourdough served with dill creme fraiche and pickled fennel
£8.95
Fish & Chips
Beer battered cod served with hand cut chips, herb mayonnaise, homemade curry sauce & charred lemon
£12.95
Steak Sandwich
5oz rump steak served medium rare on ciabatta with spiced tomato chutney, fried hen's egg, crisp onion rings, coleslaw and a choice of salad of chips
£10.95
Spiced falafel and crisp halloumi open sandwich
Lightly spiced falafel, crisp fried paprika halloumi, chilli, spring onion, candied peanuts, lime yoghurt & coriander served in an open sandwich with a choice of chips or salad
£8.95
Soups & Salads
At lunch we serve a range of seasonal soups and salads accompanied by a slice of toasted ciabatta
Spiced Falafel Salad
Lightly spiced falafel, charred halloumi, pickled shitake mushroom, coriander & pickle salad
£8.95
Tre, Pol & Pen Ploughman's
Cornish smoked ham and Godminster cheddar served with piccalilli, coleslaw and pickled salad
£9.95                  
Soup Of The Day
Served with freshly baked ciabatta bread
£6.95      
Our open kitchen is between 11.30am and 4pm every day serving a range of pizzas.
---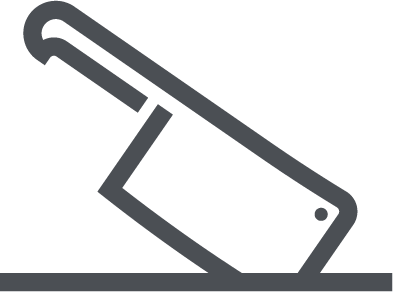 Sunday Lunch
Served every Sunday 12pm - 3pm
Mains
All of the roast options below are served with rosemary Yorkshire pudding, honey roasted parsnips and carrots, broccoli with parmesan, cauliflower cheese, creamed savoy cabbage & roasted potatoes.
Roasted Silverside Of Landue Beef
Served with horseradish cream


Pan Roasted Rare Breed Pork Belly
Served with slow braised pork collar, cider & apple chutney


Confit Lamb Shoulder
Served with homemade fresh mint sauce

Tre, Pol & Pen Nut Roast
Served with cream savoy cabbage


All - £12.95
Children's portions available for £5.95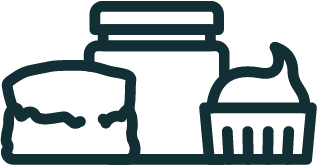 Afternoon Tea
Served 2.30pm - 4.30pm (3pm - 4.30pm on Sundays)
Tre, Pol & Pen Afternoon Tea
A selection of sandwiches and sweet treats served beside a pot of Cornish tea
£13.95 per person
 Tre, Pol & Pen Cornish G & Tea Pep up a Tre, Pol & Pen Cornish Afternoon Tea with a clotted cream gin & tonic from Tintagel's Wrecking Coast Distillery.£18.95 per person
Bubbly Afternoon Tea                  Add a splash of bubbly to a Tre, Pol & Pen Cornish Afternoon Tea with a glass of prosecco       £18.95 per person
Please book all Afternoon Teas at least a day in advance by calling 01566 706 527 or emailing contactus@trepolandpen.com. We will need to take a £5 deposit per person in order to secure a booking. This deposit can be paid in person or over the phone.
Tre, Pol & Pen Cream Tea
2 scones, Cornish clotted cream and a range of local jams served with a pot of tea
£7.95 per person
We serve a range of freshly baked cakes, scones & tea cakes throughout the day.
Gift vouchers are available for all lunch and afternoon tea occasions.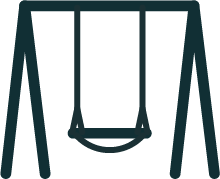 Playground
We have a children's play area next to kitchen with a seating area for parents so you can relax while the little one's amuse themselves between the slides and the swings. We do just ask that you supervise them at all times.